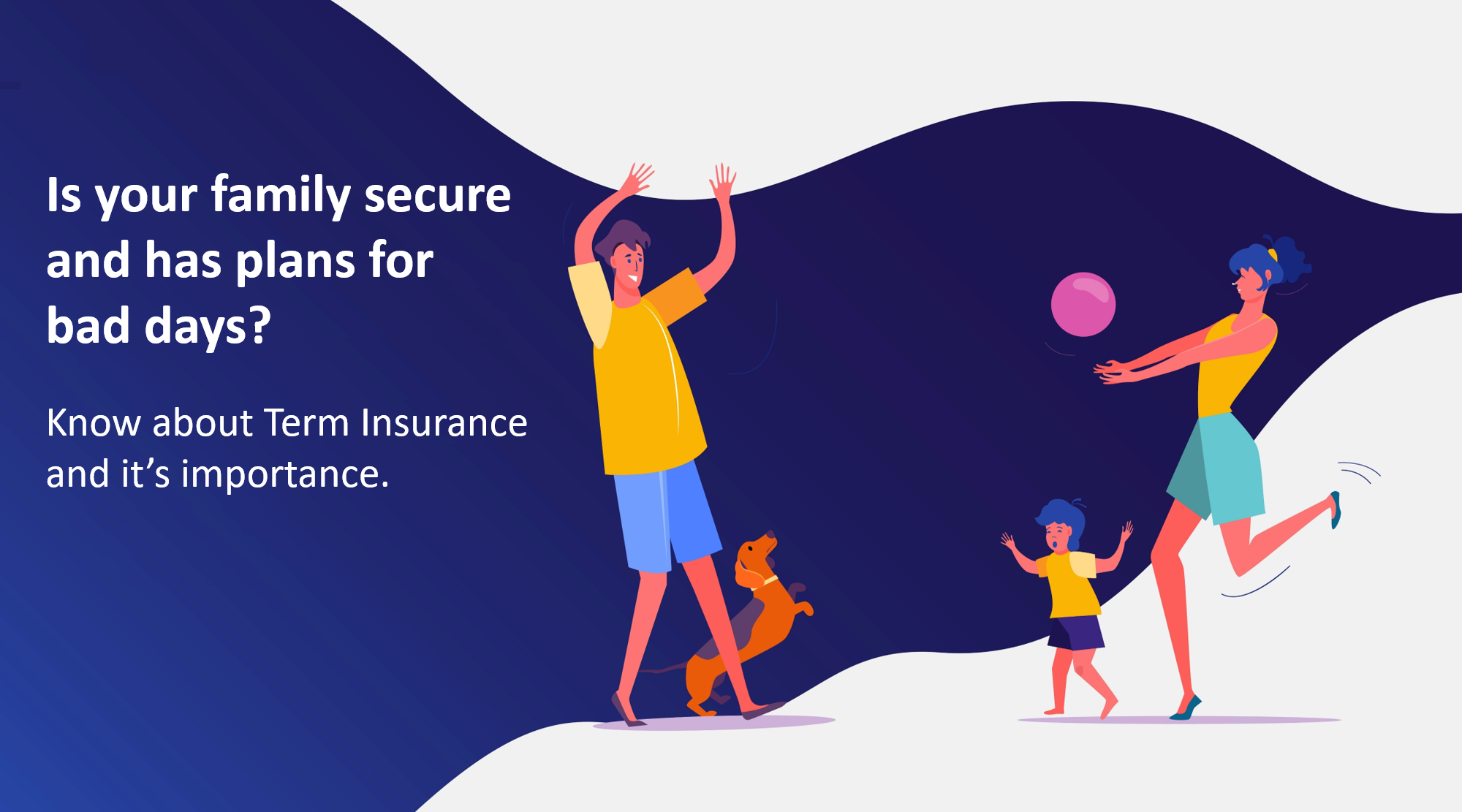 If you can just read and listen and have something to do with money, you might have definitely come across the word 'Insurance'. That might be through any print or digital media, friends, colleagues or just by your parents talking about some LIC policy they have kept for years. But, what actually an Insurance is?
Insurance simply means a contract of protection against something unwanted. We all live life and simply to live we have to deal with risks and uncertainties every day. These could be just from not getting a cab or bus on time to taking risks in business. Every action we take, have some sort of risks or uncertainties involved. Fortunately, many of them are affordable, manageable and even justified. But there are some risks that need extra care and attention. These include meeting an unfortunate accident, huge damage to personal or business property, or even death. Unfortunately, we cannot stop it from happening, but yes, we can take some preventive measures. But again, what if that fails to prevent? We will suffer a huge emotional and economic loss. And here comes the role of Insurance. Insurance cannot fill up the emotional loss made, but yes it can play a great role to make-up the economic loss if planned well. We will discuss the importance of Term Insurance in this blog and will also know why and how one should buy it.
Why Term Insurance?
A Term Insurance protects our loved ones, one whom we care for, one for whom we earn and work hard. Simply, a Term Insurance takes care of our financial dependents in our absence. In a family, we all love each other and have certain responsibilities to do. One of all those responsibilities is to feed our family and take care of their livelihood. And this includes everything from day-to-day expenses to medical treatments and meeting other important living necessities. We all plan or might have plans for the future. In fact, we all love planning as we all imagine and dream while doing it. But most of us only plan or dream for good times and not bad ones. I pray it doesn't come to anyone. But, just imagine your family in your absence without any plan for the future. How will they manage to feed themselves, arrange for all other basic requirements, medical fees, rent, child's education expenses and lots more? Do we plan or dream for such days? Many of us might not have, and there is actually an immediate urgency to think about it if we have any financial dependents and really care for them. In fact, as per the latest IRDAI statistics for FY 18-19, India ranks 17th position in terms of Insurance penetration and it is just 3.7% of GDP against the global average of 6%.
So, now if you feel the urgency to plan for your family in your absence, then you must think of taking up a Term Insurance. A plain vanilla term insurance plan guarantees to pay your nominee a sum of amount insured in the event of your unfortunate death during your policy period.
How to Buy a Term Insurance?
Now, that we know the importance of having a Term Insurance. Let's discuss what are the key points we must look or evaluate before taking up the plan and at last we will also check the documents and details required to take up the plan.
First of all, we must note that the Term Insurance covers or benefits our financial dependents, which means, if we have someone whose daily living expenses are borne by us and depends on our earnings, then they are our financial dependents and we must have a Term Insurance for them. We must also note that term insurance must be bought for a period until we earn for our dependents and that is till retirement for most people.
Now, the next question. How much money would be sufficient for our dependents to lead at least the same standard of living as they are doing now? From the question only, it is clear that the Term Insurance is meant to ensure at least the same living standard of our dependent even after our death. But how do we know much money will be enough? There is a popular and most recommended way to know it and it is by evaluating 'Human Life Value' or HLV of dependents. There are many ways to calculate HLV and we will not go much in detail here, but we will know the quickest and most used thumb rule to know it. Just divide your Annual expenses on your dependents plus your unpaid liability by prevailing interest rate. It might seem a little complicated now, but it will be clear if we take an example.
HLV = Annual Expenses + Liability
Interest Rate
For instance, Sanjay has a family of 5 members including him, his wife, his child, and his parents and he is the only earning member. Now, let's say he earns 50,000 a month and of which 30,000 is spent on his family and he has an on-going EMI of 10,000. We will assume the prevailing rate of interest as 8%. So, what is the HLV here? Let's see.
HLV = [ (30,000 + 10,000) × 12] / 8%
= 60,00,000 or 60 Lakh
It might be clear now. However, there might be many more complications and confusion while evaluating it in real cases and for that one must seek Professional Financial Planner. We must see the idea of taking the interest rate here. The idea here is actually to invest the sum insured that nominee would receive in an Investment Avenue that yields at least the total annual expense required. In the above example, if we invest 60 Lakh for an interest rate of 8% p.a., it will yield 4,80,000 annually and it will suffice to manage the monthly expenses every year.
It is now clear that we must take a Term Insurance for our financial dependents with a period until we earn for a sum insured of at least human life value. Now, we will check the documents required to take up term insurance. The basic documents required includes:
Photo.

ID proof.

Address Proof.

Income Proof or Salary Pay-slip.

Nominee, Bank, and other basic details.
There are numbers of life insurance companies that offer term insurance at affordable rates and furthermore, we can also avail deduction on our taxable income for the annual premium paid for buying the plan u/s 80C of the IT Act. Again, the sum insured is also tax-free u/s 10(10D) of the IT Act for most of the plans. But one should not look for such incentives to take up a Term Insurance as it is important for one who needs it. In fact, we should buy a term plan at an early age as its premium depends on age too and increases as we get older.
Hope that helped in understanding Term Insurance and its importance. We must also understand term insurance does not cover all requirements of an individual and thus and thus there are many other variants of life insurance that exist. To know more about Term Insurance and other Life Insurance Plans, you may reach us by mail at contact@lsfs.co.in or mobile at +91 8001052149.